25 Metallic Baby Shower Gifts For the Trendy Mama and Baby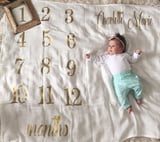 Get the Full Story
If you're heading to a trendy mama's baby shower, there's a gift theme that will almost always win you "best gift" at the party: metallics. From burp cloths and bibs to leggings and nursery art, there's a metallic gift here that will shine above the rest. Scroll through to see our favorite metallic baby products, as well as a few for mom.
Related20 Baby Shower Gifts For Moms Who Love Coffee
Share:
More in Lifestyle...