Barbed Wire Eyebrows Might Be the Messiest Instagram Trend You've Ever Seen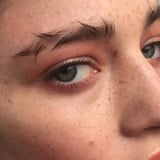 Get the Full Story
We've dedicated a solid amount of time to our eyebrows in our morning makeup routines, but this new trend guarantees that one can roll out of bed and still manage to have Instagrammable eyebrows. Meet barbed wire eyebrows, the trend coined by makeup artist Athena Paginton, who shaped a model's brows with spikes going up and down - officially making bedhead eyebrows a style.
The trend was first spotted by Allure, who reported that although this came before the feathered eyebrow madness, it's about to blow up. It looks like we're about to see a lot more crazy eyebrow trends this season. Keep reading to see more from the barbed wire brow trend and try it out for yourself . . . if you dare.
RelatedHow 1 Woman Proved You Can Get Better Brows With Time and Patience
Share:
More in Lifestyle...