Blake Lively Goes In on Reporter For Asking About Fashion: "Would You Ask a Man That?"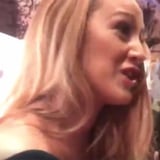 Get the Full Story
Blake Lively popping off after someone asked her about fashion at #PowerOfWomen - "Are we really doing this? Would you ask a man that?" pic.twitter.com iPftkPfoeF
- Maeve McDermott maeve_mcdermott April 21, 2017
Blake Lively attended Variety's Power of Women Luncheon in NYC on Friday, where she was being honored alongside other women like Jessica Chastain and Audra McDonald for their contributions to worthy causes. While hitting the red carpet in an emerald jumpsuit, Blake made her way down the line of eager reporters hungry for a soundbite. Unfortunately for one of them, they got way more than they bargained for when they asked her a fashion-centric question. "Are we really doing this? Would you ask a man that?" Blake responded, according to USA Today digital editor Maeve McDermott, who caught the last bit of their exchange on video. ". . . That is the moment that we become more aware, and that we change, and that we build women up. So, you can ask me another question, but . . ."
It's unfair to make judgments about either party without knowing what the exact question was since the short clip starts after it was asked, but it was enough to get the Shallows actress visibly angry before she walked away. Blake is known for her style prowess, so it makes sense that a reporter would ask her something related to fashion, but her complaint is a valid one regardless. It clearly echoes the incredible #AskHerMore campaign, which "inspires people to call out sexist reporting and suggest ways to re-focus on women's achievements." Of all the places to ask an actress about something other than what she's wearing, an event dedicated to the "power of women" who are making a serious difference in the world is a no-brainer.
Share:
More in Lifestyle...