Sofia Vergara and Joe Manganiello Can't Keep Their Hands to Themselves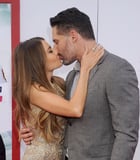 Get the Full Story
Every time we see Sofia Vergara and Joe Manganiello, our heats skip a beat. Ever since they met, it's been clear they are soulmates, and it was obvious why the universe had brought them together. Sofia and Joe love showing off how much they love each other, and we actually really love living those moments with them - true love, you guys, true love. Keep scrolling to see these two get lost in each other's eyes, get handsy on the red carpet, and kiss over and over again.
Related13 Times Sofia Vergara Showed Us She Lives by the Hashtag #NoPainNoCake
Share:
More in Lifestyle...