Behold, the 21 Inspiring Black Women of Congress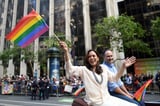 Get the Full Story
In 1968, Shirley Chisholm became the first black woman elected to the United States Congress when she was chosen to represent New York's 12th district. Today, Congress has 21 inspiring black women who span varying generations, states, and policy perspectives.
The election of Kamala Harris, a Jamaican-Indian-American Democrat from California, to the Senate in the 2016 election was an especially significant win given the shocking outcome of the presidential race. Her win and status as the nation's second black female senator in history, however, also brought to light how much progress still needs to be made.
Ahead, learn more about her and the other trailblazers 20 Democrats and one Republican currently serving in our country's leadership.
Share:
More in Lifestyle...