The Ultimate Dating Bucket List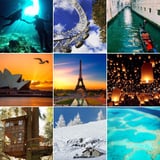 Get the Full Story
Traveling is good for the mind, soul, and heart. There are plenty of ways to spice up your relationship with your significant other, but some of the best memories are made when you both leave your comfort zones and try something completely new. There's something exciting about dates that are more adventurous than your average dinner destination, so we've created the ultimate dating bucket list with experiences that all couples should try having at least once in their lives. From skydiving and swimming with dolphins to kissing at the top of the Eiffel Tower, there's something for every couple's taste.
RelatedThis 7-Day Romance Challenge Will Jump-Start Your Relationship14 of the Most Romantic Date Ideas EverThe Ultimate Best Friends Bucket List
Share:
More in Lifestyle...