Hold the Flower Crown - What 1 Editor Actually Wore to Coachella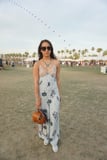 Get the Full Story
Coachella's like the Super Bowl of festivals. The stakes are high, which makes it easy to get caught up shopping and dressing for the three-day event. That was me last year. I shopped for "Coachella-esque" pieces, packed a week's worth of outfits for the long weekend, and wore shimmery flash gold tattoos. I wanted to look the part, and I achieved that. But after day one, I learned an important lesson: don't dress for the festival theme at the expense of your personal style.
With that in mind, as I headed to Indio, CA, a second time, I made sure to pack pieces that were cute and, most importantly, sensible. What did that mean? A bandanna or a scarf to cover your face from the dust was a must. Sneakers, preferably a pair you don't mind getting ruined, and a backpack or purse to hold the essentials, like water and a wallet. Instead of being overly worried what people would think about my outfit or if it seemed "Coachella-y" enough, I selected comfortable pieces from my closet I'd wear again, beyond the desert. I left the flower crowns and fake tats at home. Read on to see my actual outfits, plus a few festival style lessons I learned along the way.
RelatedThe Best Outfits From Coachella Are Right Here
Share:
More in Lifestyle...