Everything, Everything: What Illness Does Maddy Have?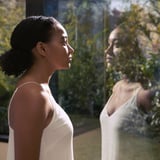 Get the Full Story
Everything, Everything is the latest YA adaptation to steal our hearts away, and it's in large part to the star-crossed romance. The movie, which is based on Nicola Yoon's best-selling novel, centers around a young teenager named Maddy Amandla Stenberg who is anything but normal. Diagnosed with a rare genetic disorder as a baby, she has never left her house . . . until a handsome boy Nick Robinson moves in next door and changes her whole outlook on life, adventure, and love. So, what exactly is so special about her case that she's not able to step outside?
As her character describes, she suffers from severe combined immunodeficiency SCID , a hereditary disease which weakens the immune system. Because her body is more susceptible to infections, everything and everyone around her has to be sanitized and her home has served as her own personal bubble. While the whole thing seems pretty crazy, turns out, the disease is far from fiction. The most well-known case was David Vetter, a young boy from Houston, who spent most of his life inside a sterile chamber before dying from Burkitt's lymphoma at the age of 12. His story even inspired John Travolta's 1976 film The Boy in the Plastic Bubble.
Share:
More in Lifestyle...