21 Tiny Airbnb Houses on Beautiful Beaches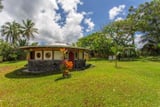 Get the Full Story
Few things are more exciting than planning your next vacation, whether it's an extended trip or a short weekend getaway. Nowadays, it's extrafun to figure out where you're going to stay, as there are more and more home rentals available on rental websites such as Airbnb. These often offer a more economical lodging option, as they usually come much cheaper than a hotel and give you the option to stay in and prepare some of your meals, in addition to more personal and accessible customer service with a single host. For your next trip, why not consider a "tiny house"? These adorable homes allow you to conserve energy, are often situated in secluded spots, and surely make for an unforgettable trip. Here are 21 Airbnb rentals waiting for you right on the beach, all across the globe.
Related5 of the Coolest Airstream Airbnbs Around the World
Share:
More in Lifestyle...