The #FitGirlProbs Tag is the Most Relatable Treasure Trove of Memes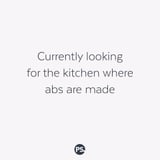 Get the Full Story
It's hard out there when you're trying to live that fit life! Healthy eating, leg day, meal prep, gainz . . . one can only take so much at a time! And while we commend your hard work and empathize with your struggles, sometimes you just have to laugh at it all. One treasure trove of relatable moments was the meme universe we found in #FitGirlProbs. Whether you're trying to find your abs, wondering why you're always hungry, or buried in a pile of gym clothes, know that you're not alone in this. Heads up: this is part entertaining, part total ab workout.
RelatedThe Hardest Part About Getting Fit? All That Laundry
Share:
More in Lifestyle...