11 Things to Know About Amandla Stenberg, Just in Case She's Still Not on Your Radar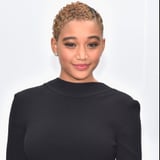 Get the Full Story
Image Source: Getty Pascal Le Segretain
It seems like Amandla Stenberg has grown up in front of our eyes. The 18-year-old Everything, Everything star earned a legion of fans when she played Rue in the blockbuster film adaption of the Hunger Games book series back in 2012, but these days, Amandla can be found educating her generation about cultural appropriation and advocating for more women of color in front of and behind the camera in Hollywood. We're sure this is just the tip of the iceberg as far as her accomplishments go, so you'll definitely want to get to know her now. Read on for 11 fun facts about Amandla.
Related8 Famous Teens Who Are Wise Beyond Their Years
She is pansexual. After initially coming out as bisexual, Amandla told Elle she considers herself pansexual because the word is inclusive of transgender people.
She appeared in Beyonc 's Lemonade visual album. You can catch a glimpse of Amandla in the project alongside Zendaya and Oscar nominee Quvenzhan Wallis.
Amandla went to her high school prom with Jaden Smith. The adorable duo posed for photos on Instagram, and Amandla called Jaden a "gentleman" by the end of the evening.
Her mother is African-American and her father is of Danish descent.
Image Source: Getty Mike Windle
Her name, Amandla, means "strength" and "power" in Zulu. Her mother named her after the 1989 Miles Davis album of the same name.
She can sing and she's also a violinist. Amandla released two EPs with Zander Hawley under their band name, Honeywater.
She's an ambassador for No Kid Hungry, the nonprofit organization which brings awareness to ending child hunger in the United States.
Image Source: Getty John Sciulli
Amandla is a comic book author. In 2015, she released Niobe: She Is Life #1, the first book from her fantasy trilogy series about a black girl elf vying to "unite the human world and the elf world."
She will take a year off before attending college. "I definitely want to take a gap year and have that time to explore and find myself," she told Elle.
Amandla is currently dating 21-year-old director Tucker Tripp, whom she met on the set of a Blood Orange music video.
She realized she was a feminist early on in life. "I first identified as a feminist in eighth or ninth grade," Amandla told Bust in 2016.
Share:
More in Lifestyle...