Zoe Saldana: "I've Never Wanted Different Hair or My Body Any Other Shape"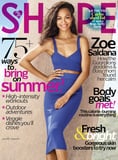 Get the Full Story
Zoe Saldana is glowing as Shape's latest cover star. In the June issue, the actress shares her refreshing take on living a healthy life. We're inspired by her honest and realistic approach and how she balances it out against a busy shooting schedule and a full house of three adorable boys and a supportive husband.
RelatedA Trainer Shares His Favorite Moves For a Strong Butt and Better Overall Health
Share:
More in Lifestyle...