13 Things Only Latinx Will Understand About Food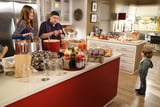 Get the Full Story
When it comes to food, Latinx share many common dilemmas and experiences. No matter what country in Latin America your family comes from, we know the struggle is real when you try to be healthy by turning down abuela's delicious homemade dishes, or try to explain to your American friends that they shouldn't eat for 48 hours before they come over for dinner at your mom's. Latinx take their food seriously - that's why there are so many debates about the origins of pisco, ceviche and even empanadas - and so, of course, there are certain things about food only Latinx will understand. Read on for 13 true facts about food.
Related17 Struggles People Who Love Spicy Food but Can't Take the Heat Will Understand
Share:
More in Lifestyle...