Prince William and Kate Middleton Share a Rare PDA Moment at Wimbledon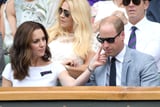 Get the Full Story
Prince William and Kate Middleton don't show PDA very often, but when they do, it's superadorable. The royal couple shared a tender moment at Wimbledon on Sunday when they watched Roger Federer take on Marin Cilic from the stands. Aside from sharing a few laughs as Kate tried to manage her hair in the wind, she also sweetly removed a speck from her husband's cheek. Even though there isn't any formal rule that discourages them from showing PDA, the two usually remain professional with their outings as they serve as "working representatives of the British Monarchy." But what better place to show their "love" than at a tennis event?
RelatedThe Evolution of Will and Kate's Royal Love
Share:
More in Lifestyle...