Tina Knowles Is Already Making Jokes About Beyonc 's Twins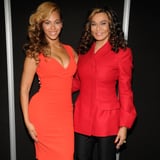 Get the Full Story
Beyonc made the world come to a drastic halt last week when she revealed the first photo of her twins, Rumi and Sir, on Instagram. And now that everyone is coming down off the high that is two new Carter children, the singer's mom, Tina Knowles, is opening up about their arrival in a sweet and hilarious way. While chatting with Entertainment Tonight on Saturday, Tina revealed how Blue Ivy is adjusting to life with two new siblings. "She's proud and very excited. She's a good big sister, she really is," Tina said. "We're very excited! It's a wonderful experience!" The proud grandmother also joked about her daughter's chaotic new life, telling E! News, "Oh, the kids are wonderful but the best thing is that you can give them back."
RelatedBeyonc Just Confused the Hell Out of Everyone With Her Twins' Names
Beyonc 's photo revealed that the twins were born on June 13, but that hasn't stopped their famous mom from getting right back into the swing of things. The "Sorry" singer made her first appearance since giving birth when she stepped out with husband JAY-Z in LA on Thursday to attend an event celebrating Roc Nation's Vic Mensa. No big sister Blue Ivy sightings yet, but we're keeping an eye out!
Share:
More in Lifestyle...