6 Striking Character Posters For Star Wars: The Last Jedi Have Been Revealed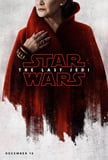 Get the Full Story
Star Wars: The Last Jedi doesn't come out for quite some time, but luckily Disney has been dropping more and more tidbits for eager fans. After unveiling some revealing behind-the-scenes footage from Episode VIII at the D23 expo over the weekend, the studio doubled down by sharing six striking character posters on Twitter. Each features one of the main players Rey, General Leia Organa, Poe Dameron, Kylo Ren, Luke Skywalker, and Finn , all of whom are dressed in the same bold shade of red. The color is clearly a running theme for the film, since it's the same hue used on the official poster, as well as the color of some explosions depicted in the D23 clip. Could it be a hint at the passion to come? Or blood? Fire? Death? We'll have to wait until Dec. 15 to find out.
Related8 Glorious Spoilers We Just Learned About Star Wars: The Last Jedi
Share:
More in Lifestyle...