The 1 Thing Model Lily Aldridge Does Every Day to Stay Healthy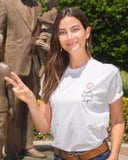 Get the Full Story
You probably know Lily Aldridge as one of Victoria's Secret's most iconic Angels, a runway staple during Fashion Week, and the face of many campaigns, from Bulgari to Salvatore Ferragamo. But if you missed the fact that Lily has been partnering with St. Jude Children's Research Hospital for seven years, that's a shame, because the supermodel is unbelievably proud of her dedication to charity work. In fact, it's a huge part of Lily's life, and she even designed an adorable t-shirt with her daughter! to benefit the cause.
Lily's impressive resume - both in fashion and philanthropy - is cause for a few very important questions, such as "could you imagine your career looking any other way?" and "what do you teach your daughter about fashion and giving back?" Lily offered us plenty of well-rounded responses, and then some. Just read on for a few of the supermodel's memorable mantras.
RelatedThe 42 Best Street Style Outfits the Victoria's Secret Angels Have Ever Worn
Share:
More in Lifestyle...