Angelina Jolie Wears These 8 Brands on Repeat - and They're Fashion Favorites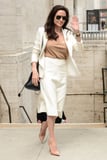 Get the Full Story
No matter what Angelina Jolie wears, she always stays true to her style. Whether it's on the red carpet or at a humanitarian event, the star carefully chooses well crafted and sophisticated pieces. Take her timeless LBDs or suit sets - these staples make up a large portion of Angelina's wardrobe. She tends to stick to neutrals such as cream, black, beige, and gray, often preferring functional pieces above all else.
Angelina's the type to invest in a trusty Everlane loafer or Chlo ballet flats for her trips, rather than a pointy-toed heel. This makes sense given how much she travels for work and with her children. So, what exact brands does Angelina invest in? We dug a little deeper to find out and came away with eight labels that Angelina seems to love.
RelatedLeave It to Angelina Jolie to Wear Summer's Most Practical Sandals
Share:
More in Lifestyle...