It's Clear That Joe Jonas and Sophie Turner Make Each Other Incredibly Happy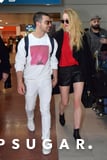 Get the Full Story
Sophie Turner and Joe Jonas threw everyone for a loop when they were spotted cuddling at the MTV EMAs in November, but now that the initial shock of their romance has worn off, we have to admit: they're pretty darn adorable together. While the fashionable couple has yet to make things red carpet official, they have shown off their sweet bond on various occasions. Not to mention, they love to have fun with the cameras. Whether they're practicing their kick-boxing or giving important hints about their love life, we can't get enough of their silly, fun-filled romance. See their best moments together ahead.
RelatedLook Back at All the Jonas Brothers' Past Loves
Share:
More in Lifestyle...