This Quincea era Combines 2 of Our Favorite Things: A Great Party and Disney Princesses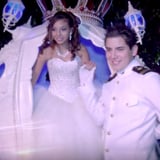 Get the Full Story
This 15-year-old's Disney-themed quincea era is the perfect homage to some of your favorite Disney princesses. Sarai created her own magical kingdom for her big night celebrated in 2014 . She had the girls in her court dress up as Snow White, Belle, Pocahontas, and Tinker Bell, while she was Cinderella in a gorgeous white ballgown, arriving in a horse-drawn white carriage fit for a princess.
The decor inside the quince was very simple, reminiscent of Cinderella's glass slipper with clear and white details - even Sarai's prince was in an all-white outfit. Instead of having a huge traditional cake, the quincea era opted for a series of cakes with characters from different Disney movies, including Sleeping Beauty, Aladdin, Lilo & Stitch, and Tangled. She even had some of the movie posters blown up and adorning the entrance of her venue where guests danced the night away wearing Mickey ears and jester hats. You literally have to see it to believe it.
Share:
More in Lifestyle...