15 Celebrity Halloween Costumes That Came From Your Nightmares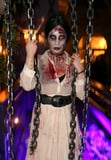 Get the Full Story
Over the years, Hollywood has pulled out all the stops when it comes to Halloween, giving us hundreds of spectacular looks to appreciate and imitate. Plenty of stars have gone the sexy route - we're looking at you, Paris Hilton - while others opt for dialing down the sex appeal. And of course, we can always expect the industry's hottest couples to pair up and shut it down. But perhaps the most fun costumes have been those that dial up the horror, just enough to give you the creeps.
Related5 Famously Cursed Film Sets, and Their Mysterious Circumstances
Share:
More in Lifestyle...