Kate Middleton and Princess Diana's Twinning Style Moments Might Just Blow Your Mind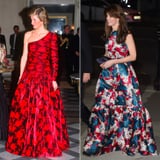 Get the Full Story
When Prince William and Kate Middleton announced their engagement back in October 2010, it was inevitable that the newest member of the royal family would be compared to her mother-in-law, the late Princess Diana. Not only did the two women share the same sapphire engagement ring but also good genes, with their catwalk measurements and photogenic good looks. Over the following six years, Kate's fashion choices have also often been compared to those of Diana - many times because they might simply have worn the same color. However, there are some striking similarities between many of the women's choices - some intentional, and others less so . . .
RelatedWe're Tipping Our Hats to Princess Diana's Timeless ToppersPrincess Diana Was the Ultimate '80s Style Icon, and These Pics Are Proof
Share:
More in Lifestyle...