18 Recommended Reads From Your Favorite Bookworm, Reese Witherspoon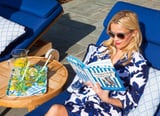 Get the Full Story
Reese Witherspoon posts books she loves on Instagram on the regular. Here's a roundup of her top picks from our friends at Off the Shelf, a daily blog that connects great books with great readers.
Reese Witherspoon is an Oscar-winning actress and producer, mother, Southern-inspired apparel designer . . . and book aficionado? Everyone knows she does it all, but we're currently most impressed with her juicy reading stash. In addition to gorgeous photos of her covetable life, her Instagram account is brimming with remarkable book recommendations. Keep reading to get fourteen Reese approved reads you'll want on your own bookshelf ASAP.
Share:
More in Lifestyle...