McDonald's New Coconut Pie Is the Best Dessert We Never Knew Existed!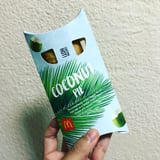 Get the Full Story
McDonald's is no stranger to releasing some of the best desserts we've ever laid eyes on, but its newest coconut pie just might take the cake. The coconut flavored pies, which are only sold in Singapore as part of the McDonald's National Day menu, reportedly has nata de coco bits inside of each bite. One Instagram user who was lucky enough to tasted the hot cakes gave it a thumbs up and even noted that they went back for seconds.
RelatedDeep-Fried Apple Pies Inspired by McDonald's
That would also explain why others have complained about the coconut pastry is selling out so quickly. Here's to hoping McDonald's coconut pies makes its way over to the states soon so we can conduct our own personal taste test. Until then, feast your eyes on the crave-worthy photos of the coconut pie we all deserve ahead.
Share:
More in Lifestyle...