See What Classic Disney Princesses Would Look Like If Tim Burton Directed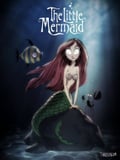 Get the Full Story
Director and animator Tim Burton is known for his dark take on things, including his works like The Nightmare Before Christmas, Corpse Bride, and Edward Scissorhands. His signature twist is what makes Burton films so distinct and pretty much the opposite of every classic Disney movie. Artist Andrew Tarusov, who gave Disney princesses a burlesque makeover, reimagined our favorite childhood movies once again but through Burton's eyes. And the results are fantastic. Scroll ahead to see Ariel, Bambi, Sleeping Beauty, and others get transformed.
RelatedClick These Mickey Heels and Say, "There's No Place Like Disneyland!"
Share:
More in Lifestyle...