Meadow Walker Shares a Photo of Her Dancing With Dad Paul in Honor of His Birthday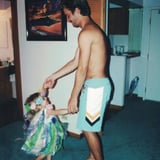 Get the Full Story
A post shared by Meadow Walker meadowwalker on Sep 12, 2017 at 7:24pm PDT
Tuesday marked what would have been Paul Walker's 44th birthday, and to honor the special occasion, his daughter, Meadow, shared a beautiful throwback photo of her and her dad. In the snap, Paul, who tragically passed away in a car accident in November 2013, dances with Meadow and twirls her around a living room. The now 18-year-old has an adorable smile on her face while wearing a dress and flowery headband. In addition to sharing the intimate photo, Meadow also made sure to spread kindness with her post, writing, "In honor of my dad's birthday today, we're challenging you to DO GOOD! Share a video or photo of your random act of kindness and nominate 4 people to join the challenge! Be sure to tag the foundation as well as hashtag #PWFdogoodchallenge, so we can check out all of your posts!"
In the years since Paul's death, Meadow has shared a handful of heartwarming photos with her dad on social media, and she also honors his legacy by contributing to charities that involve his love of the ocean and all things marine biology.
Share:
More in Lifestyle...