The Way 1 Dad Calms Down His Baby With Special Needs Is Beyond Sweet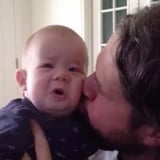 Get the Full Story
How We Calm Our Love Bug
"Before we got Gideon's diagnosis, we found it odd this was the ONLY way we could stop his crying. At 7 months old, he was diagnosed with something Peroxisomal Biogenesis Disorder which among other complications has left him legally blind and severe-to-profoundly deaf. Once we knew he was blind and deaf, these raspberries made so much more sense! He still loves this!"
#LoveWhatMatters
Credit: Life with a Happy Heart
Posted by Love What Matters on Tuesday, September 12, 2017
Before baby Gideon was diagnosed with peroxisomal biogenesis disorder at 7 months old, the Jolicoeur family was stumped when it came to calming down their baby when he was crying . . . until they discovered the magic of raspberries.
In a video recorded by Gideon's mom and posted to Facebook, we see the tiny baby uncontrollably crying, until his dad swoops in and saves the day with a raspberry or two. Judging by the relaxed look on the infant's face, it definitely appears to be working.
Peroxisomal biogenesis disorder, a medical condition that affects human cells, often leaves children blind and can lead to loss of hearing as well, so it's no surprise that little Gideon took a shining to some skin-to-skin action. Talk about cuteness overload.
Share:
More in Lifestyle...