Dating Just Got Easier - OkCupid Now Shows If the User Supports Planned Parenthood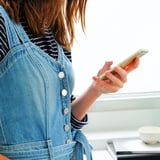 Get the Full Story
Dating site and app OkCupid just eliminated half the guesswork in screening potential dates. Beginning Sept. 13, profiles will show whether or not the user supports Planned Parenthood with the display badge, #IStandWithPP. Now you can avoid that awkward conversation at dinner altogether and go straight into discussing your mutual stance on reproductive health care - now that's sexy.
During signup, users are prompted to answer the question: "Should the government defund Planned Parenthood?" If he or she publicly responds "no," the hashtag will clearly show on their profiles. Though it won't display the alternative #IDontStandWithPP , it won't be very difficult to see if someone isn't a supporter. On top of highlighting those for the organization, the app will also make it easier to connect with other fellow supporters.
RelatedThis Gut-Wrenching Video Shows What a World Without Planned Parenthood Would Be Like
"We know that Planned Parenthood is driving conversations, support, and education that millions care about," OkCupid CMO Melissa Hobley said in a press release. "When we looked at the data, we saw that our community on OkCupid was talking about Planned Parenthood . . . so we decided to make it easy to find the folks who cared about the same thing."
Though the profile feature will run a month long, we hope it's here to stay beyond the partnership.
Share:
More in Lifestyle...