See Why This Boy's Shoe-Tying Hack Is Going Viral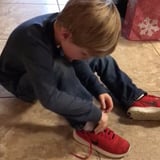 Get the Full Story
Coolest shoe tying trick ever!!! Posting to help anyone who is struggling like we were! Feel free to share
Posted by Ashley Lillard on Wednesday, January 18, 2017
Nearly four million people have watched a young boy tie his shoes on Facebook because, quite frankly, his hack to make the process easier is genius. However, Colton doesn't take the credit for this new take on the loop, swoop, and pull method - in which the ends of the laces are inserted into the top threading hole to create loops for tying - but gives a shout-out to his friend River, who taught him at school.
Colton's mom, Ashley Lillard, decided to film him demonstrating his friend's trick and posted the video to Facebook in an attempt to help other moms and kids having trouble with shoe-tying. "Coolest shoe tying trick ever!" she wrote. "Posting to help anyone who is struggling like we were!" The simple hack is a great way to teach young kids how to tie their own shoes and will help you both avoid meltdowns caused by frustrations over tangled laces.
RelatedThe 50 Best Parenting Hacks You Need to Learn14 Ingenious Mom Hacks to Make Arts and Crafts Less of a Headache15 Genius Travel Hacks For On-the-Move Moms
Share:
More in Lifestyle...