This Sister Wedding Dress Shoot Is the Cutest Idea Ever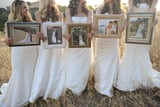 Get the Full Story
No, these are not sister wives. These five women are wives who happen to be sisters, and they came up with the best idea ever - a sister photo shoot in their wedding dresses. While most brides would love any excuse to wear their wedding dress again, one of the sisters, Cassie Gant, explains their motivation: "We did this shoot as a thank you to my parents for their love and support in not only our weddings, but in our marriages." How sweet is that? See their laughter- and twirl-filled shoot by Rachel Blackwell now!
Related4 BFFs Wore Their Wedding Dresses For This Adorable Photo Shoot
Share:
More in Lifestyle...