8 Food Shows to Add to Your Must-Watch List This Fall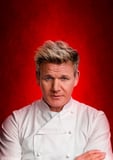 Get the Full Story
As the start of Fall brings in a slew of new shows to watch, we're particularly partial to one specific genre: food. Beginning in September, there's a fantastic lineup of new seasons premiering from some of your favorite food shows, both on network television and on Netflix. Ahead, discover what's new and what you'll be adding to your must-watch list this coming Fall.
RelatedThe Best Food Shows Streaming on Netflix Right Now
Share:
More in Lifestyle...