7 Spooky Movies Coming Out in Time For Halloween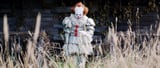 Get the Full Story
The Fall season is upon us, which means the Halloween season is upon us! While the chilly air makes us want to curl up with some nostalgic scary movies, there are also a handful of new scary movies coming to theaters this Fall. While It has already kicked off the season, there are plenty more to come, ranging from mind-bending thrillers like Mother! to traditional horror, like the Saw franchise's follow-up, Jigsaw. Cruise through this list of new scary films, then get started on your Halloween movie checklist!
Related13 Nights of Halloween: See the Full Lineup For Freeform's Annual Marathon!
Share:
More in Lifestyle...