18 Lisa Frank Products That Will Make You Feel Like a Kid Again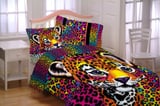 Get the Full Story
Lisa Frank's delightfully loud patterns and colors will never go out of style - at least, for us millennials. We went from carrying her bright Trapper Keepers to classes at school to splashing her prints onto our bodies now that we're old enough. Needless to say, our love for her will never die, which is why Lisa Frank's products are aging right along with us so we can keep them in our lives. Keep reading for all the Lisa Frank picks you need to transport you right back to the '90s.
RelatedLisa Frank Debit Cards Are Here to Bring Unicorns and Rainbows to Your Spending Habits
Share:
More in Lifestyle...