17 Award Show Moments That Will Make You SO Glad Will & Grace Is Coming Back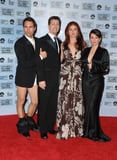 Get the Full Story
Will & Grace is coming back to TV on Sept. 28, nearly 11 years after it originally ended, and the reboot has us excited for the main cast - Debra Messing, Eric McCormack, Megan Mullally, and Sean Hayes - to hit the red carpet together at award shows again. Seriously, they had so much fun together! During the show's eight-season run, Will & Grace took home 16 Emmys and seven SAG Awards; while it didn't win any Golden Globes, the show received a whopping 27 nominations between 2000 and 2005. In honor of the fab four's comeback and the upcoming Emmy Awards, we're looking back at the cast's best award show moments over the years.
Related40 Moments From Will & Grace That Will Never Not Be Funny
Share:
More in Lifestyle...