This Pennywise Makeup Tutorial Will Scare the Bejesus Out of You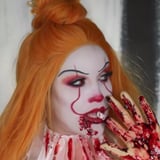 Get the Full Story
If you don't like clowns and somehow have ended up here, please stop and turn around because this makeup tutorial to create a creepy Halloween costume based on It's Pennywise is too frightening. It's not just the makeup, created by YouTube vlogger and Anastasia Beverly Hills collaborator Nicole Guerriero, but the scary carnival music playing in the background that make this tutorial one of the scariest ones we've yet to see.
Follow Nicole's surprisingly easy step-by-step instructions using white face paint, red eyeshadow and spray blood, get yourself a red balloon and wig, and get ready to make people scream and run on October 31.
Share:
More in Lifestyle...