This Couple Went Both Glam and Casual For Their Adorable Engagement Shoot in the City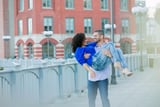 Get the Full Story
Yomaris' god sister worked with David, who would end up being her future fiance. She took his phone at work one day and sent Yomaris a message on Facebook, and then the two met for the first time on their date that Saturday night. David and Yomaris enjoyed dinner in downtown Jersey City and then walked along the pier, finishing the night with a movie at home. That evening is both their favorite memory together to this day.
When it came to the proposal, David planned the most memorable event. He told Yomaris that they'd be going on a double date with her god sister the one that introduced them . She "canceled" on them last minute but the two still went to dinner by themselves. When Yomaris left for the restroom, he set up the ring box and gave a random stranger his phone to record it all on Facebook Live. Once she said yes, he surprised her by taking her into a private room where their entire families were waiting. There also happened to be fireworks going off over the water, which couldn't have been a more perfect end to the night.
The couple decided to go both glam and casual for their engagement photos around the city, and they turned out perfectly. See the album ahead!
RelatedWe Love That This Couple Shot Their Engagement Photos at the Harvard Art Museum
Share:
More in Lifestyle...