Chronic Pain Isn't Stopping Lady Gaga From Doing WORK in the Gym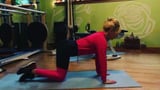 Get the Full Story
Ever since Lady Gaga opened up about her chronic pain disorder on Gaga: Five Foot Two, we've been wondering how the heck this superwoman does so much every day. She has fibromyalgia, which causes tons of pain in the body in addition to other crazy-difficult symptoms like fatigue, memory loss, trouble sleeping, depression, anxiety, irritable bowel syndrome, and tension headaches - absolutely awful, right?
Well, she's not slowing down. Despite the physical and emotional! adversity she faces day to day, she's working her butt off in the gym and focusing on her health. Rocking head-to-toe Bjorn Borg activewear and looking like an absolute stunner , she showed off a series of adorable and inspiring Instagrams - the perfect combo of gym selfie, Boomerang, and yoga pose.
RelatedThese Are the Sneakers You've Been Seeing Britney Spears Wear All Year
Share:
More in Lifestyle...