Miley Cyrus Moves a Las Vegas Shooting Victim to Tears With a Surprise Message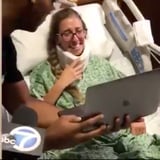 Get the Full Story
. MileyCyrus surprises Las Vegas shooting victim Katrina Hannah w a message. Miley saw our past profiles of Katrina, who is just back in CA. pic.twitter.com rfzva4ntKR
- Elex Michaelson abc7elex October 18, 2017
The mass shooting at Las Vegas's Route 91 Harvest Festival left the country completely devastated earlier this month, but one thing that continually gives us hope is the people who step forward to make a difference. One of those people has been Miley Cyrus. After performing a moving tribute to the victims with Adam Sandler on The Tonight Show, the "Younger Now" singer sent a special message to Katrina Hannah, a concertgoer who was shot in the neck and shoulder when gunman Stephen Paddock opened fire on Oct. 1.
RelatedJason Aldean Returns to Las Vegas 1 Week After Shooting: "We Will Never Forget"
Katrina is one of Miley's biggest fans, so when a news reporter said they had an extra surprise for her during an interview, she was overcome with emotion when Miley's video message started to play. Watch the video above to see how amazingly strong Katrina is and how incredibly thoughtful Miley is.
Share:
More in Lifestyle...