6 Creepy-as-Hell Things That Happened to People While Watching Scary Movies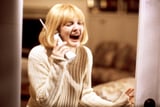 Get the Full Story
Scary movies are fun to watch any time of year, but there is really nothing like hunkering down to test your fear capacity around Halloween. Some people can only handle Freeform's kid-friendly lineup of scary movies, while others go all out for AMC's FearFest schedule. Whatever your taste may be for blood, or otherwise , you're bound to be a little tense. But what if something else happens in addition to the expected jump scares? Keep reading for six creepy-as-hell things that have happened to people while watching scary movies, and prepare to never sleep again.
RelatedOnly People With Nerves of Steel Will Be Able to Watch Every Horror Movie on This List
Share:
More in Lifestyle...