Mariah Carey, Queen of Holiday Music, Just Revealed a New Christmas Song!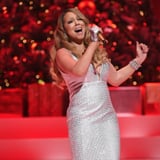 Get the Full Story
Halloween? What's that? We've got our minds permanently fixed on the upcoming holiday season, and apparently, so does Mariah Carey. The singer just released a new Christmas song out of the blue, thus solidifying her status as the reigning queen of Christmas tunes. Titled "The Star," the song is from the soundtrack of The Star, an animated movie that tells the story of the first Christmas. The track is already available for download on iTunes, or you can simply stream the entire track on Spotify below to hear Carey's buttery-smooth voice in all its glory.
The singer surprised her followers and fans by revealing "The Star" on social media, as she tweeted, "Surprise! My new Christmas song THE STAR is out now! #TheStarMovie." Needless to say, her fans subsequently lost their sh t, excitedly sharing their love for the Christmas Queen's bop. This brand-new jam just might give "All I Want For Christmas Is You" a run for its money.
THANK YOU FOR THIS AND SAVING CHRISTMAS QUEEN pic.twitter.com 4TWwlHwQ3F
- Rami AyyRamiK October 20, 2017
It's been on repeat! So beautiful
- Rey ReyCareylamb October 20, 2017
Mariah it is so great and FESTIVE my dahhling! I love you and will always support you. pic.twitter.com 2AdFepR3NH
- Jermare Harrison JermareHarrison October 20, 2017
ITS AMAZING. I LOVE IT. WE LOVE YOU QUEEN OF CHRISTMAS. IM INSPIRED. #FOLLOWTHATSTAR
- Ren RenTheArts October 20, 2017
Suddenly I don't know Halloween & Thanksgiving pic.twitter.com SNcVAL45p0
- Benjamin Bateman Benjamin_MCQ October 20, 2017
Share:
More in Lifestyle...