Make Good on Your Resolution With 1 of These Killer Cookbooks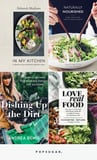 Get the Full Story
Overindulged over the holiday? Resolved to cook more in 2018? Simply looking to expand your culinary repertoire? If you've answered yes to any or all , a new cookbook is an excellent place to start. With that in mind, I've rounded up the best new releases from 2017 - some well known, and some you may have missed.
As a wellness-focused food blogger and admittedly a bit of a cookbook hoarder, I've read, bookmarked, and ultimately cooked from dozens of new releases to discover which are worth your attention. Keep reading for my 11 favorite titles from the past year. Whether you're a vegetarian or vegan, follow a gluten-free or Paleo diet, or are just looking to incorporate more nutritious, produce-heavy meals into your diet, there's a book for you.
Related15 Quick, Easy Breakfasts You Can Totally Make For Dinner
Share:
More in Lifestyle...