This Type of Flaxseed Is Better at Preventing Belly Bloat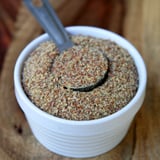 Get the Full Story
Not a fish fan but you know you should be getting your omega-3s? Look to the amazing flaxseed in order to get your daily recommended amount of 1.1 grams. When perusing the aisles of your grocery store, you'll see they come in two forms - whole and ground. Is one more beneficial than the other? The chart below shows how they compare nutritionally.
1 tbsp. whole flaxseed
1 tbsp. ground flaxseed
Calories
55
37
Total Fat g
4
3
Saturated Fat g
0
0
Carbs g
3
2
Fiber g
3
2
Protein g
2
1
Calcium mg
26.1
17.9
Iron mg
.6
.4
Omega-3s g
2.3
1.6
Omega-6s g
.6
.4
Folate mcg
8.9
6.1
As you can see, they're pretty similar, but it's recommended to consume ground flaxseed because whole flaxseeds just pass right through the body undigested. Eating ground flaxseed allows your body to get the omegas as well as the phytochemicals called lignans, which may have antioxidant actions and may help protect against certain cancers. What about flaxseed oil, you ask? It also contains omegas and lignans, but it has no fiber, so go for the ground flaxseed to keep you regular and to help prevent bloating caused by constipation.
RelatedIs There Something Healthier Than Chia Seeds?
Since the RDI of omega-3s is 1.1 grams a day, just one tablespoon of ground flaxseed added to your smoothie, oatmeal, cereal, or sprinkled in your soup or on your salad is way more than enough. You can also bake with it as an egg substitute in recipes like this protein banana bread.
Share:
More in Lifestyle...