100 Beauty Memes That Will Make You LOL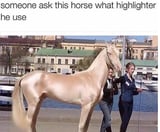 Get the Full Story
Few things have the ability to brighten our day like a solid meme. But we found something even better than the average meme - beauty memes! Whether you're a hair and makeup pro or just learning how to braid your hair, these funny photos are bound to make you laugh.
Source: Instagram user makeupkaykay
Share:
More in Lifestyle...