Holy Sh t, You'll Never Recognize Nicole Kidman on the Set of Her New Film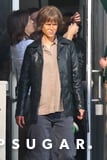 Get the Full Story
Is that you, Nicole Kidman? On Friday, Nicole was spotted in LA on the set of her new film, Destroyer, and from the looks of things, she's definitely getting into character. The 50-year-old actress, who recently took home a Critics' Choice award for her performance in Big Little Lies, sported a dark brown wig, leather jacket, and a fake gun while filming. According to IMDb, Nicole plays Erin Bell in the crime thriller about a police detective who reconnects with people from her distant past in order to make peace. Sounds juicy. No word yet on when the film will hit theaters, but these photos of a barely recognizable Nicole should hold us over until then.
RelatedProof That Nicole Kidman Is and Will Always Be a Total Knockout
Share:
More in Lifestyle...