These Time-Labeled Water Bottles Make It So Easy to Stay Hydrated All Day Long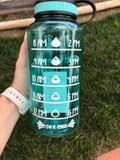 Get the Full Story
Drinking enough water is easier said than done for some people, and these water bottles are here to help you out. Having a water bottle at your desk or in your gym bag is one thing, but remembering to fill it up constantly is another. One helpful tactic comes in the form of these time-labeled water bottles, which make it easy to see how much water you're really drinking as the time passes and when it's time to get a refill ASAP. If you're a particularly visual person, you can also try keeping track of your water intake in a bullet journal. Get on board with staying hydrated by shopping 11 cute options for time-increment water bottles ahead.
Related4 Surprising Reasons to Drink Hot Water With Lemon Every Morning
Share:
More in Lifestyle...