Fixer Upper Fanatics Are Going to Love This Farmhouse-Inspired Decor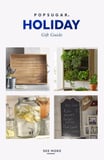 Get the Full Story
Chip and Joanna Gaines have the uncanny ability to turn the most boring, unsightly, or downright dilapidated house on the block into charm-central. While it's satisfying to see Chip tear up a shag carpet or take a hammer to a dated '80s kitchen, it's Joanna's rustic style that truly transforms each house into a warm, cozy home. She mixes salvaged wood pieces, flea market finds, and industrial-chic accents to cultivate her uniquely polished yet homespun look. Here's farmhouse-inspired home decor that will make any house as picture perfect as the Gaines's. Keep it for yourself or gift it to the Fixer Upper fanatic in your life.
- Additional reporting by Kelsey Garcia
Share:
More in Lifestyle...