Just Hear Us Out: This Is Why Fitness Resolutions Should Start in February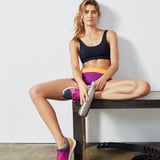 Get the Full Story
If you struggled through the first month of the year and made a poor attempt at your healthy goals only to ditch them, hold up just a minute . . . because all is not lost. Your new year has a brand new start date, and it just happens to be February - forget about January but hey, well done to those who tried , it's in the past now. Moving right along.
Truth: The silly season doesn't properly end the moment your New Year's Day hangover thankfully disappears. In fact, January is often just as busy as the lead up to Christmas. Now that we're all back at work school normal life, it's the perfect time to launch into your resolutions and make them stick. That's why we've decided February marks the official start to your most successful year yet. Go you!
Related7 Healthy Late-Night Activities That Are Better Than Snacking - For Real
Looking for some resolution inspiration? Or a goal you actually have a chance of sticking to? Take your pick:
Aim for three types of exercise within a week: Opting for three different workouts e.g., yoga, boxing, and spin over seven days will keep your body guessing and get you results a lot faster.
Have breakfast every morning: Simple, sure! But making sure it's healthy is where most fall short. If you're one to skip the most important meal of the day, don't. Need some inspo? Try these.
Be more adventurous in the kitchen: It could be something as simple as adding turmeric to your meals. This superfood is perfect for good gut health. Try it!
Snack more: We're talking the good kind of snacking, like Greek yogurt with berries and nuts. Snacking will help with portion control when meal time rolls around. Can't find a snack that satisfies? We got you. Try these!
Stay away from the fads: Sadly, this is what too many resolutions are made of. The problem with fad diets and exercises is they're almost always destined to fail. Cutting out entire food groups or only doing one type of exercise is going to bore you and see you revert back to bad habits in no time.
Limit your alcohol intake: Yeah, yeah, we get it, this is easier said than done. But if alcohol is something you need in your life, try going two weeks without it. If that's too easy, try for one month on and the next month off. It won't take long for you to realize your body performs better without it.
Make meditation your thing in 2018: Aim for an all-round healthier you this year by calming your mind and getting a little zen. Start with 10 minutes a day and work towards meditating for 20 minutes each morning for a clearer, happier mind.
Share:
More in Lifestyle...