Ready to Shop? These 14 Striped Dresses Will Make You Spend Money Without Hesitation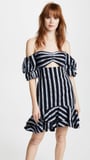 Get the Full Story
We can never get enough of stripes. They're a versatile pattern that can be dressed up or down. Plus, it's easy to pair them with other patterns when you want to mix up your look. If you're on the hunt for a great striped dress, we rounded up our favorite options. Snag one now and you'll be wearing it for years to come.
RelatedParty Girls, Hold Onto Your Wallets! We Found the 15 Best Cocktail Dresses of 2018
Share:
More in Lifestyle...