Bring on the Bunnies! 14 Easter Decor Items For Design-Minded Moms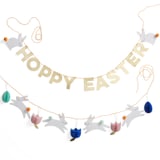 Get the Full Story
Easter decor is everywhere, and if you're anything like me, it's probably tempting you to redecorate your home with pastel eggs and fuzzy bunnies. But before you buy the next cute but not at all cool bunny centerpiece you see, let us offer you a better way to add some Easter spirit to your abode without losing the style you've painstakingly curated despite the sticky fingered inhabitants that also call it home. From chic, bunny-eared home accessories to sweet banners you won't mind displaying for the weeks leading up to the Easter Bunny's big visit, here are 14 items that will help bring some Easter joy into your home.
Related10 Desserts Featuring the Sugary, Marshmallowy Goodness of Peeps
Share:
More in Lifestyle...