This Model Walked Up a Marble Staircase in the Most Enchanting Wedding Dress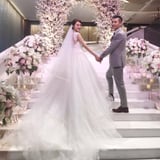 Get the Full Story
Some wedding dresses are so beautiful, they stop you in your tracks. That's exactly what happened when we saw model Yoyo Tang's La Sposa gown. She got married in a poufy, lace ensemble that looked especially stunning from the back she has a 'gram to prove it . The wedding dress, however, wasn't the only option she kept on hand for the big day. The bride wore not one but four different looks total.
After the ceremony, Yoyo had pink and silver beaded gowns lined up to take the dance floor. She posed with friends and family against a floral backdrop, and with each outfit change, the dresses just got better and better. It appears Yoyo lucked out with finding so many pretty wedding outfits, so scroll on to see them all. Then check out even more extravagant bridal looks.
RelatedHold Your Breath Because This Blogger's Wedding Gown Is Even More Stunning From the Back
Share:
More in Lifestyle...